Buenos-Aires-Walking-Tours.com
BA-Walking-Tours.com
BA-WT.com
"Best of BA" Florida-Recoleta walk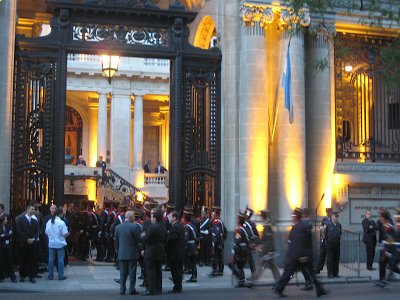 The ultra-rich ranchers: The Anchorena's Palace --Paris in South America
Book Now


• Description: Scroll (way) down for extensive information!

• When: Available each 30mins. between 9:00am and 3:00pm, daily 365 days/year, rain or shine

• Duration: 3 hours (approximately)

• Price: USD $50 p/p all tax included. A minimum of 2 people is required. Ask about single person and large group pricing.

• Discounts: Each 7 people, one is free of charge (approx. 15% discount)

• Meet: Hotel pickup is available at downtown hotels for a small additional fee (USD $20) if you let us know with at least 24hs advance advise. Otherwise your guide will wait for you at the door, outside the 'Florida Garden' cafe, corner of 899 Florida St (with Paraguay St) on the main pedestrian street, downtown, holding a small 'BA-Walking-Tours' sign (map)..

• Note: After this ultra-enjoyable walk you will understand Buenos Aires (and Argentina!!) much better. It includes over 25 main city landmarks (different from our other walks). This is not a strenuous walk. At some point (time permitting) we may stop for coffee or refreshments at some emblematic cafe of cultural or historical value. Snacks, drinks, hotel pickup, transportation, foot massage, mid-life-counseling, good sense of humour and gratuities are not included (actually massage, counseling and good sense of humour are not even available!).

• Some key sights:
Florida St. --Bullfights & slaves: how Buenos Aires was born
Paz Palace--our Belle Epoque splendor (120 rooms for a family of 4!)
San Martin's Monument (here we explain how Argenina was born)
Kavanagh Building (architecture in BA explained)
Santísimo Sacramento Church (unusual and amazing church, explained)
British Clock Tower (here we explain past & present unsuspected presence of England in Argentina)
British Railroad Terminal Stations
Barrio Norte Neighbourhood (here we explain the strong influence of the French and Italian in Argentina)

Mihanovich & Strugamou Buildings (wealthy ranchers & immigrants change BA)
Arroyo Street and its Art Galleries (art & culture in BA)
Alvear St. & Palaces (Nunciature, Duhau, Hume, Casey and Lloubet's) (also here we explain the impact of immigration in Argentina)
Nuestra Senora del Pilar Church
Recoleta Neighbourhood (La Biela and surrounding parks)...and much more!


Optionals: Depending on availability, you can extend this walk to include our 'BA-Recoleta' (top menu) walk including the world-famous Recoleta cemetery (with tons of monuments explained--including all about Evita Peron).