Buenos-Aires-Walking-Tours.com
BA-Walking-Tours.com
BA-WT.com
"Classic Buenos Aires"
See the essential BA's Musts from the Obelisco to La Boca (w/ride to La Boca)!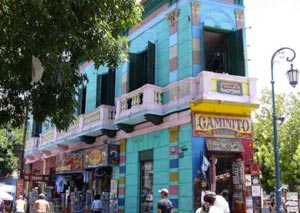 The famous 'Caminito': the old 'La Boca' street mentioned in one of the first Tango lyrics
Book Now


• Description: scroll (way) down for extensive information!

• When: Available each 30mins. between 9:00am and 3:00pm, daily 365 days/year, rain or shine

• Duration: 4 hours (approximately)

• Price: USD $99 p/p all tax included. A minimum of 2 people is required. Ask about single person and large group pricing.

• Discounts: Each 7 people, one is free of charge (approx. 15% discount)

• Meet: Hotel pickup is available at downtown hotels for a small additional fee (USD $20) if you let us know with at least 24hs advance advise. Otherwise your guide will wait for you at the door, outside the 'Florida Garden' cafe, corner of 899 Florida St (with Paraguay St) on the main pedestrian street, downtown, holding a small 'BA-Walking-Tours' sign. Get printable, bilingual ('good-for-taxi' or asking) directions here, or see map here.

• Note: after this ultra-enjoyable walk + drive, you will understand Buenos Aires (and Argentina!!) much better. It includes over 45 main city landmarks (different from our other walks). This is not a strenuous walk and full itinerary will be covered depending on time and circumstances at time of tour. At some point we'll stop for coffee or refreshments at some emblematic cafe of cultural or historical value. Snacks, drinks, hotel pickup, transportation, foot massage, mid-life-counseling, good sense of humour and gratuities are not included (actually sense of humour is poor, scarce and generally unavailable!)



Some key sights:
Av. 9 de Julio & Obelisco (its erection explained)
Plaza Lavalle: from posh to revolutionary
Colegio Roca: literally a temple for knowledge
Teatro Colon: one of the world's top Opera Houses
Main Synagogue: The Jewish settlers and their contribution to local culture
Teatro Cervantes: Spain in Argentina
Music Stands Installation: literally no words
Costaguta Palace: new-meets-old in esthetic harmony
Law Courts: what is law like in Argentina?
Jewelers Street: modern guilds alike medieval ones
Masonic Headquarters: did freemasons free all of America?
Music Stores St.: the modern guilds
Pasaje Rivarola / La Piedad: aborted architectural trends
Confiteria Del Molino: frozen belle-epoque beauty
Congress Bldg. & Park: how many architects murdered?
Mile Zero/Palacios Monument/Rodin's 'The Thinker'
Av de Mayo: How we became Paris (and Madrid) of the South

La Inmobiliaria: grandiose arquitecture starts with this
Awesome Barolo Bldg.: Dante's Divine Comedy turns skyscraper
Diario Critica/Hotel Majestic
Iguazu Falls & Quixote Monuments + Evita's "hamburger" Mural
Hotel Castelar/36 Billares/Cafe Iberia
Cafe Tortoni
Edificio La Prensa
Pasaje Roverano
Palacio Municipal (Evita's private rooms)
Plaza de Mayo (here we board public transportation to La Boca)
Tobacco, Modern Art Museum & Aristotle Onassis' peanuts
Urban Concentration Camps & the 30,000 Dissapeared (Gral. Cacciattore's Highway)
Lezama Park & National History Museum
Pedro de Mendoza's Statue--Earliest Fortified Settlement Site
Russian Orthodox Church (partly donated by the last Czar in 1914)
James Brittain's "toll road" to La Boca
La Boca & Caminito St. story ...and much more!
Tour Outline (abbreviated):
(Mouseover/out pictures to toggle size)
In this walking tour we will show you a small portion of all Buenos Aires can offer: its originary neighbourhoods and history. Once you are familiar with these areas you will be able to access hundreds of interesting and fun places and activities on your own and without any help.
Early Buenos Aires
Avenida 9 de Julio
Obelisco
Plaza Lavalle
Statue of Norma Fontenla & José Neglia
Escuela Roca
Teatro Colon (Columbus) Opera House
Young Gomero Tree
Main Synagogue
Teatro Cervantes
Feuds on Plaza Lavalle
Music Stands
Palacio Costaguta / Torre Massue
Law Courts
Libertad Street
Masoneria Argentina
Talcahuano Music Stores
Pasaje Rivarola
Iglesia & pasaje La Piedad
Confiteria el Molino
Congreso
Plaza Congreso
Mile Zero, Buenos Aires
Monument to Mariano Moreno
Plaza Lorea
Instituto Biológico Argentino
The Thinker
Av de Mayo
La Inmobiliaria building
Diario Crítica
Palacio Barolo
Hotel Majestic
Monument to Iguazu Falls
Hotel Castelar
Café Iberia
Bar 36 Billares
Teatro Avenida
Monumento al Quixote
Café Tortoni
Florida St.
Edificio La Prensa
Pasaje Roverano
Palacio Municipal
Piccardo, Modern Art Museum & Onassis
Urban Concentration Camps & the 30,000 Dissapeared
Lezama Park & National History Museum
Pedro de Mendoza's Statue--Earliest Settlement Place
Russian Orthodox Church (donated by the last Czar in 1914)
James Brittain's 'toll road' to La Boca
La Boca & Caminito
Buenos-Aires-Walking-Tours.com


Reservations (text/call/Whatsapp) in English:
Tel. +1 (250) 884-8787

Call your guide / guides on duty:
Tel. +(54 9 11) 2578-1111 [15-2578-1111 locally]