Walking Tours
: Our Regular Walking Tours (each one is approximately 2 hours, 2 miles long and covers over 25 different essential landmarks each)
Tango Tours
include (transportation, food, drinks, show, dance and lessons if you feel like it! -or you can just look and enjoy). Discounts are available for groups of 4 or more.
Private & Tailored Tours:
: ask! (you can use the link to our email on the main page).
BA-Walking-Tours Cancellation Policy
We understand that sometimes, even with the best of intentions, the best laid plans go awry. However from the time that you make your booking your places are held for you. This means that, should someone else want to go on the tour you are on, we may not be able to take that person or people on the tour, thus we ask you to please understand that, should you cancel your tour, you will be charged a cancellation fee. Cancellation fees are as follows:
Cancellations received from booking until at least 7 calendar days in advance of the scheduled departure or commencement time, there is no cancellation fee (*).
Cancellations for regular tours received between 3 and 6 calendar days in advance of the scheduled departure or commencement time, you will be charged a 50% cancellation fee (*).
Cancellations for regular tours received within 2 calendar days of the scheduled departure or commencement time, you will be charged a 100% cancellation fee.
Cancellations for private tours or/and tours scheduled for Sundays and Argentina's national holidays, received within 7 calendar days of the scheduled departure or commencement time, you will be charged a 100% cancellation fee.
(*) All cancellations of electronic purchases (Paypal, credit cards, etc) will have a 5% fee to cover our processing costs.

A great guide with loads of knowledge and surprises!
Reviewed by: Lionel H, United States of America, December 2009


If you like history, economics, architecture, arts this tour is definitely for you! The local company offers two different tours, a morning walk from Retiro Plaza San Martin to Recoleta and an afternoon tour from Recoleta to Palermo. The tour starts at 2pm, but plan to arrive ahead and have lunch at Cafe Biela which is where the tour starts. It is a historical cafe, in the heart of Recoleta. It even has a terrasse in the shade of a 200 year old tree. The first hour of the tour is dedicated to the Recoleta cemetery. You'll hear amazing stories about the different people, famous and less famous, resting in peace. You'll also hear about Eva Peron and see her tomb. Then, you'll walk along the avenue del Libertador and hear about different monuments and buildings including the national library, Errazuriz palace, the Art museum, etc. The guide we had was very knowledgeable and interesting.
Reviewed by: Bruno C, Canada, November 2009


Our tour guide was great, spoke great English and told us a lot. Do the tour on Saturday and then you can go to the market afterwards.
Reviewed by: Casey W, New Zealand, October 2009


This was superb! The guide was wonderful - he managed in this short tour to give a feeling for both the country and the people. It would have been less of a trip without this experience.
Reviewed by: Richard D, United States of America, May 2009


I ended up being the only person on the tour, so I had a wonderful private tour with the guide. I learned a lot about Argentinian history, focusing of course on Eva & Juan Peron during our tour of the Recoleta Cemetery. He had many fascinating stories to share.
Reviewed by: Terri H, United States of America, March 2009


Absolutely wonderful! The guides are extremely well informed. I learned so much!
Reviewed by: Anonymous, United States of America, March 2009


A must if you are visiting Buenos Aires.
Reviewed by: Gerhard P, South Africa, February 2009


Exceeded expectations. The leader was very knowledgeable.
Reviewed by: Anonymous, Canada, January 2009


A good tour of peaceful and romantic impressions of the cemetery in a busy capital, and a colourfull comment of the well informed guide.
Reviewed by: Gerhard M, Germany, December 2009


| | |
| --- | --- |
| Heads-up and Tips for Travelers | (top...) |
SAFETY:
Buenos Aires is basically safe, but it is a good practice to stay where there is some people; in other words do not go into places, streets and neighbourhoods where you are alone. If possible walk in a group with friends: 2, 3 or more people is better (safer) than going alone. Hide or tuck away your cameras, watches, purses, wallets, bags and anything enticing that a "grabber" could snatch and run away with (they often work with the support of a motorcycle buddy who is casually riding nearby so they can hop on the bike and quickly dissapear). BA is seldom a violent city (there is seldom violent crime or shooting) but it is a large city, and predator thieves and pickpockets can prey on unalert walkers. We suggest you heed to the following advice:
After 10PM avoid hailing taxis in the streets. It is preferable to call for radio taxis or deluxe service cars.
Leave your passport and surplus cash or travellers checks in the hotel safe.
Do not conspicuously carry around valuable objects or wear a lot of jewellery.
Try to avoid showing your camera in too obvious a manner.
Always carry a personal ID with you.
So called kangaroo pouches to use inside your clothing or internal pockets with zippers are very useful.
A travellers insurance taken out in your own country will be very helpful if and when needed.
Try to keep the number of pieces of luggage and carry on bags to a minimum; it will reduce the risk of forgetting any of them.
Always keep your carry on bags in sight at airports and train stations.
Be careful with your belongings when using the Underground or subway or anywhere where there are big crowds.
In case of emergency dial 101 from any public phone.
You may find beggars on the streets; the best thing is to ignore them and continue walking.
Important Consideration: Though hotel clerks are notoriously good for practical local information ("Where can I find an open pharmacy?"), and MOST of them are very honest and truly nice, some others may ruin what might have otherwise been a great travel experience by funneling the tourist into run-of-the-mill "tourist consumable" activities that makes him/her (the concierge) the most money. Many of them make huge and easy profits booking the traveler into humdrum shows & cursory tours by just picking up the phone and adding one referral (i.e. sale) to their kick-back tally with their favorite vendor. The savvy traveler gets advise re honest, real (genuine) activities, tours, shows and stores FROM OTHER TRAVELERS and LOCALS they meet: this is much more fun and authentic!

POLICE AND SECURITY FORCES
The federal police (do not forget that Buenos Aires is a federal capital) patrol on foot, horse and in police cars. They wear blue uniforms.
The port area is under the protection of the Navy Coast Guard (a.k.a. 'Prefectura'), whose members wear light brown uniforms.

SAFE NEIGHBOURHOODS:
Some neighbourhoods and some streets are traditionally safer than others: Florida street is usually safe, while most downtown streets nearby (and San Martin Park) might not be. Barrio Norte (Santa Fe Av. and all the streets and avenues between it and Recoleta, including Libertador Av. and beyond to Palermo Chico) are pretty safe and fun to walk, with beautiful dwellings and thousands of interesting stores and shops of all kind. San Telmo, Palermo Viejo, Palermo Soho and Palermo Hollywood are safe, interesting and nice to walk in the afternoon (as long as there is daylight), but only mainstream streets are recommended at night (again stay where there is lots of people, and you WILL find lots of people in the main areas of these neighbourhoods even very late at night). Far neighbourhoods as Belgrano, Vicente Lopez, San Isidro, Martinez, Acassuso and La Lucila are beautiful and usually safe to walk in the morning and afternoon within the strip that lays between Santa Fe Av. (and its continuations: Cabildo Av. and Maipu Av.), Libertador Av. and the River shore. We DO NOT recommend you walk most OTHER neighbourhoods without a guide: there are a lot of interesting places in each neighbourhood of this large city, but it is not advisable you wander without a guide, as most neighbourhoods have bad spots you should avoid.

HOURS:
Buenos Aires is really a city where people stay up (and out) late. Most families (not only individuals) will go out for dinner at hours when in most other countries you go to bed, and it is not only not unusual, (but rather the USUAL !!) that people will meet for dinner at 11pm. Restaurants are half empty before that, and after a lengthy dinner, it is usual to go somewhere else for coffee or icecream. Thus if somebody invites you to the cinema or theater at 9pm (or later) expect to go for dinner or at least coffee after that (12pm) or later. Usually you can't go dancing before 1:30 am (disco's are not open yet), unless you are going out for Tango dancing, which usually starts at 11pm or sometimes earlier (i.e. lessons). As these times are also during the weekdays, many foreigners ask "aren't they tired next morning?" and "how do they go to work next day?". Argentinians don't really priorize work, but rather fun. In a country where people are used to unpredictable economics and extremely poor planning conditions, most people care about living today and enjoy life. More to be said along the tours, or over coffee!

TRANSPORTATION: (Buses, Taxis and Subways)
Buses are not advisable: Bus drivers in BA only bend the rules they can't brake. They bully other traffic, run the red lights and park yards off their sidewalk stop (into the street). They swerve violently, brake violently, accelerate suddenly and often race like they were at the racetrack. That being said, if you decide to risk it then take coin change with you. Also, they are often packed-full, so if you were lucky to find a seat find your way to the door a few blocks earlier than your stop, as you can only buzz your stop request using the button by the back door(s).
Taxis are rather inexpensive and abundant, but it is in our opinion a MUST to call a radio-taxi (never, if at all possible, hail or flag down a taxi: chances are they might take advantage of you). Radio-taxi drivers tend to behave properly since there is some paper-trail of the dispatcher when the call is placed. Request from us a list of tried-&-true cab-companies during our tours.
Subways are great: cheap and not dangerous, though rather picturesque; you'll see (and listen) to all kinds of beggars, panhandlers, buskers and canvassers.

PIROPOS:
It is quite usual that men will say rather poetic (and often sexually explicit) one-liners to women in the streets. No offense needs be taken, since it is a very enrooted expression of machismo and passionate devotion for womanship as a whole, inspired by the beauty of a lady. They are often very nice, like "What happened today in heaven, that all angels have descended to the street?", etc. If you are a lady, you need not respond: just look ahead and continue your way (unless you don't mind starting a love affair). If you are a man, we strongly suggest not trying your hand at Piropos: you need the local touch, or you might get in trouble.

GREETINGS:
Don't be surprised if men (usually friends or acquaintances) kiss and hug when they meet. It is customary, and it is always just one kiss by the cheek (not TO the cheek), rather like cheeks touching and kissing the air (unless it is a really dear friend). With women it is pretty much the same. The more formal approach is a handshake. In any case the smart & safe thing to do is smile and wait for the other person to take the lead: if he/she offers a hand it is a handshake, if they hug you or kiss you, do the same (lightly).

USEFUL PHONE NUMBERS
International Calls Operator : 000
Domestic Calls Operator : 19
Medical assistance (Emergencies): 107
Information (Phone Directory): 110
Official Time: 113
Fire Department: 100
Police Department: 111
Consumer Defense: 5382-6216/17
Tourist Police: 4346-5770
Emergency Police and Fire Departments: 10
National Tourist Board: 0-800-50016 (toll free 24 hours line).
City Information Centre: Avenida Santa Fe 883 - Buenos Aires. Tel.: 4312-2232 or 0800-555-0016

COMMUNICATIONS: (Telephone/Fax/Internet)
There are public pay phone booths on most streets and Avenidas in the city centre. You will also find them in restaurants, bars, shopping malls and stands. In the rest of the city they are harder to find. They are coin operated or use phone cards or a combination of both. Minimum charge is 20 centavos and they will also accept 5, 10. 25 and 50-centavo pieces as well as 1 Peso coins as well as telephone cards that can be bought in stands and in the offices of the phone companies.
You can also find "Locutorios" (phone centres), which are open 24 hours a day and from which you can make long distance national or international calls.
When trying to call Buenos Aires from abroad, you will need to dial Argentina's country code (54), city or area code (11) and then the local number in Buenos Aires.
If you want to call from Argentina to another country first dial 00, then the country code, then area code and then the local number. Your phone operator can give you information on Argentinean area codes and other area codes outside Argentina.

CUSTOMS REGULATIONS:
It is forbidden to bring plants, vegetables, fruits and perishable food products into Argentina. You are allowed to bring pets, but they must be certified and their vaccines must be up-to-date.

SALES TAX AND REFUNDS
General sales tax (IVA) is 21%, and is generally included in prices unless marked: + IVA (Spanish acronym for value added tax). If, upon leaving the country you have acquired products for a value above 70 pesos (per invoice) you can recuperate the amount due to IVA through purchases in the tax-free shops at the airport departure lounge. You can easily find them since they have a sticker with the words "TAX FREE" on their windows.

VISA EXTENSIONS
If you wish to extend your stay in Argentina you must pay a visit to Dirección Nacional de Migraciones, Avenida Antártida Argentina 1355 - Retiro. Information can be obtained by calling: 4317-0200.

CURRENCY
The Argentinean currency is called the peso and is divided into 100 centavos. If you need to change foreign currency you should do so in an authorised money exchange office.

One peso coins are made out of two metals, coloured golden and silver. 50-centavo coins are golden. 25, 10 and 5-centavo coins may be golden or silver. One-centavo coins are copper coloured. All bills are the same size and all have the face of an Argentinean founding father engraved on them.

EXCHANGE RATES
In Argentina exchange rates are favourable to foreign visitors. Foreign currency is exchanged in the above mentioned currency exchange offices or in the banks. The best option is the banks. (Banking hours are from 10AM till 3PM). If you need to change money outside these hours, please use the services of a currency exchange office or talk to the people at the front desk of your hotel. In some areas of the city you will find people on the streets offering to change your money: DO NOT ACCEPT. Some hotels and shops accept US dollars with no problem, and they usually have no problems changing it into pesos, but you will probably get a more favourable exchange rate at the bank.

TRAVELLER CHECKS
Few shops in Buenos Aires will accept traveller checks. The fastest and best way is to have them changed in a bank or the above-mentioned currency exchange offices.

CREDIT CARDS
Most commercial outlets, restaurants and bars will accept major credit cards, but due to the economic situation and inflation there is a possibility that in some cases they will add on a 15 to 20% surcharge. Before handing over your credit card, please check what their custom is. The most generally accepted cards are those of Visa, MasterCard, American Express y Diners Club.

TO BLOCK STOLEN OR LOST CREDIT CARDS PLEASE CALL:
American Express: 4312-0900
MasterCard: 4345-1322
Visa: 4379-3400
Diners Club: 47082484


Australia
Canada
European Union
Ireland

Local Denomination: Embajada de Irlanda
Address: Av. Del Libertador 1068 6º
Neighborhood: Recoleta
Tel.: (54 11) 5787 0801
E-mail: info@irlanda.org.ar
Website: www.irlanda.org.ar
Days and Hours: lunes a viernes 9 a 13 hs.

New Zealand
South Africa

Local Denomination: Embajada de la República de Sudáfrica
Address: Marcelo T. de Alvear 590 8º
Neighborhood: San Nicolás
Tel.: (54 11) 4317 2900 / 2963
E-mail: info@sudafrica.org.ar
Website: www.sudafrica.org.ar
Days and Hours: lunes a viernes de 9 a 12 hs.

United Kingdom
United States of America
| | |
| --- | --- |
| About Us - your Buenos Aires Tour Guides | (top...) |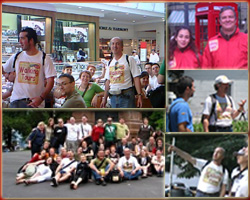 BA-Walking-Tours is composed of carefully selected

government-licensed local & international Buenos Aires tour guides, who need be either locals born in English speaking families or else expats living long term here.

They all strive to share with each visitor the fascinating beauty of this city, its landmark sites, stories, architecture, historical gossip and personal favorites in native English, Spanish or French at your own pace and in a fun (often hilarious) way.
© 2004 - 2016 by BA-Walking-Tours.com.

SAFETY
Tour participants are responsible for their own personal safety at all times. We ask that you pay attention when crossing roads, and that you do so with your own personal safety in mind. We also ask you to be aware of any dangers, such as loose paving, stones, etc.. Though we walk along safe areas, please avoid showing flashy jewelry, watches, necklaces, etc. We do not accept any responsibility for thefts, losses, accidents or injuries suffered by our Buenos Airers walking tours customers.

Commercial use of all or any part of our website content without permission is strictly forbidden. Please contact us if you are interested in using our content for your website or publication.

Athough we have made every effort to provide accurate and up-to-date information, we accept no responsibility for loss, injury, bad "beef empanadas", unsavory "mate tea", your favourite Argentine team loosing, or any other inconvenience sustained by any person using this website or.and joining our walks & tours.

Messages, Testimonials and email you send us become the property of BA-Walking-Tours.com and may be edited, published or otherwise used by us.