Buenos-Aires-Walking-Tours.com
BA-Walking-Tours.com
BAWALKS.com
"Best of Buenos Aires + Recoleta" our terrific combo!
The sum of two of our bestselling tours, shorter for single walkers and strongly discounted for couples & trios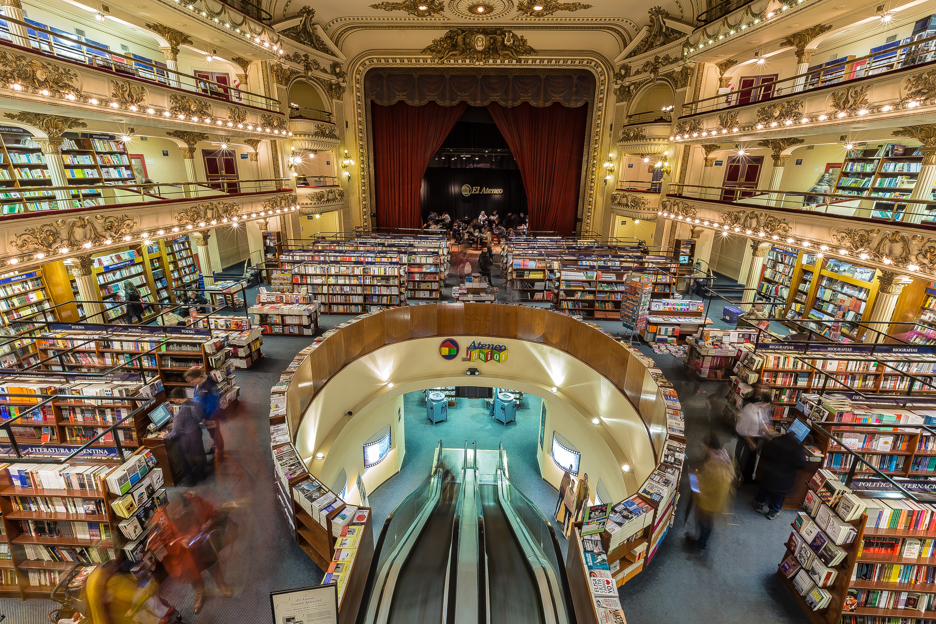 Arguably one of the world's most amazing bookstores
Book Now


• Description: Semi-private tour (2-8 ppl. max.) Scroll (way) down for extensive details!

• When: Available 10:00pm (or ask!) daily, 365 days/year, rain or shine

• Duration: 4 hours (approximately)

• Price: USD $99 p/p all tax included. A minimum of 2 people is required. Ask about single person and large group pricing.

• Discounts: Each 7 people, one is free of charge (approx. 15% discount)

• Meet: Hotel pickup is available at downtown hotels for a small additional fee (USD $20) if you let us know with at least 24hs advance advise. Otherwise your guide will wait for you at the door, outside the 'Florida Garden' cafe, corner of 899 Florida St (with Paraguay St) on the main pedestrian street, downtown, holding a small 'BA-Walking-Tours' sign. Get printable, bilingual ('good-for-taxi' or asking) directions here, or see map here.

• Note: This is a 4hr walking tour in english. It includes over 40 main city landmarks, one or two open green spaces and some off-the-beaten-track portions of the city. This is not a strenuous walk, but we will be walking quite a bit, so bring comfortable shoes. At some point in our walk --time & weather permitting-- we'll stop for coffee or pop (and bathrooms) at some emblematic cafe of historical value. Snacks, drinks, hotel pickup, transportation, foot massage, mid-life-counseling, good sense of humour and gratuities are not included. Listed below, you will find some ot the landmarks we will walk by:

• Some key sights:
Florida St. --Bullfights & slaves: how Buenos Aires was born
Paz Palace--our Belle Epoque splendor (120 rooms for a family of 4!)
San Martin's Monument (here we explain how Argentina was born)
Kavanagh Building (architecture in BA explained)
Santísimo Sacramento Church (unusual and amazing church, explained)
British Clock Tower (here we explain past & present unsuspected presence of England in Argentina)
Barrio Norte Neighbourhood (here we explain the strong influence of the French and Italian in Argentina)

Mihanovich & Strugamou Buildings (wealthy ranchers & immigrants change BA)
Arroyo Street and its Art Galleries (art & culture in BA)
Israeli Embassy Site: local dictatorships & persecutions explained
Alvear St. & Palaces (Nunciature, Duhau, Hume, Casey and Lloubet's) (also here we explain the impact of immigration in Argentina)
Recoleta Neighbourhood: famous La Biela cafe and surrounding parks
Recoleta Cemetery 'in Depth' (...not literally): a thorough walk of the world-famous cemetery with tons of fascinating monuments and stories, including all about Evita Peron... and much more!