Buenos-Aires-Walking-Tours.com
BA-Walking-Tours.com
BAWALKS.com
Jewish Tour of Buenos Aires
The early Jewish immigrant "gauchos', Hitler's aides born here, the bombings (Embassy and AMIA), how Prosecutor Nisman was murdered and TONS of interesting facts and stories, shown to you by the local Shoah Museum guide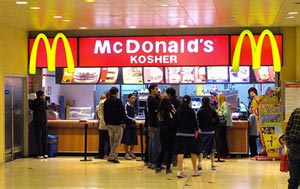 A Kosher McDonald's at the "Abasto Mall" (old central market) in "Once" the orthodox Jewish neighbourhood in downtown Buenos Aires.
Book Now


• Description: Scroll (way) down for extensive information!

• When: Available each 30mins. between 9:00am and 2:00pm, daily 365 days/year, rain or shine

• Duration: 4 hours

• Price: USD $120 p/p all tax included ($30/hr). A minimum of 2 people is required. Additional hours at $30 per person and hour. Ask about single person and large group pricing.

• Discounts: Each 7 people, one is free of charge (approx. 15% discount)

• Meet: Hotel pickup is available at downtown hotels for a small additional fee (USD $20) if you let us know with at least 24hs advance advise. Otherwise your guide will wait for you at the door, outside the 'Florida Garden' cafe, corner of 899 Florida St (with Paraguay St) on the main pedestrian street, downtown, holding a small 'BA-Walking-Tours' sign. Get printable, bilingual ('good-for-taxi' or asking) directions here, or see map here.

• Note: This is a 4 hr walking tour in english. An unforgettable walk; Approximately 300,000 Jews live in argentina, most of them in Buenos Aires. It is estimated this is now the 7th largest Jewish population in the world (though it used to be larger until recently--stay tuned). This is not a strenuous walk, but we will be walking quite a bit, so bring comfortable shoes. At some point in our walk we'll stop for coffee or pop (and bathrooms) at some emblematic cafe of historical value. Snacks, drinks, hotel pickup, transportation, foot massage, mid-life-counseling, good sense of humour and gratuities are not included. Listed below, you will find some ot the landmarks we will walk by:

• Some key sights:
Introduction: Argentina and Jews in Argentina
Main (Libertad) Synagogue: A visit to the main synagogue
BA Jewish Museum: 'Dr. Kubrick' BA Jewish Museum
Columbus' Signature: Was Columbus Jewish? Were his sailors?
Teatro Cervantes: Quixote's impossible dream a Yiddisher one?
The Spanish & the Inquisition: Conversion and crypto-Jews
The Jewish Cowboys: Jewish Gauchos - Early Immigration
You thought it was the Germans?: Argentine Nazi Ideologists
Holocaust – Shoa Museum: A homage to the local survivors

Peron & Company: 8,000 passports for Nazi criminals
Bombed Embassy: Visit the site where horror stroke
AMIA Bombing Site: More horror—90 innocent killed here
Jewish Bad: Local Jewish Mobsters
A visit to the IWO: (optional if available)
Sociedad Hebraica Argentina: Where the community meets
Visit to Other synagogues
Is 'Once' neighbourhood a Ghetto?: A walk around Buenos Aires´ most important Jewish quarter, where we can see ieshivot, Jewish institutions, schools, stores and experience its everyday activity.
Kosher Macs?: A stop for a kosher treat (food cost not included-you pay what you choose to eat, if any) at one of the few kosher Mc Donald's around!
Tour Outline (abbreviated): (click on pictures to toggle size) This walk, lead by a savvy guide is by far the best way to experience Jewish Buenos Aires. You will have the undivided attention of our multi-lingual guide who knows this city in-and-out with its Jewish stories, history, legends, habits, curiosities, neighbourhoods, people, restaurants, circuits... the whole nine yards!
Argentine-born Nazi Top-Rank Commanders in WW2 Germany
Shoah Museum Buenos Aires
Main Synagogue
Teatro Cervantes (Spanish colonies, Inquisition and crypto-judaism)
How long did inquisition last in Argentina?
Embassy of Israel and AMIA Building Bombings
Prosecutor Nisman's Death
Was Columbus Jewish?
Cronology