Tour Outline (abbreviated):
(click on pictures to toggle size)
If you shake off the somberness, the famous
Recoleta Cemetery Tours
are a VERY interesting walk. Lots of stories, lots of things to think about: The Recoleta Cemetery Tours are located in the exclusive Recoleta neighbourhood. The Cementery includes graves of some of the most influential and important persons of Argentina, including several presidents, scientists, and wealthy characters. Internationaly, Eva ("Evita") Peron is one of the best known persons buried in this cementery. The entrance to the cemetery is through neo-classical gates with tall Greek columns. The cemetery contains many elaborate marble mausoleums, decorated with statues, in a wide variety of architectural styles. The entire cemetery is laid out in sections like city blocks, with wide tree-lined main walkways branching into sidewalks filled with mausoleums.
(top...)
Our Recoleta Cemetery Tours show one of the world's extraordinary graveyards, a study in architecture and sculpture, a country's history, mores and soul. A number of tombs are national historic monuments. It is a place of spiritual beauty and extravagant taste. And thanks to Madonna and Broadway, it is hotter than ever as a tourist attraction. Travelers stream through the portal, cameras in hand, and ask the custodians the way to ''Evita.'' (Some even ask for ''Madonna''!).
(top...)
While many of the mausoleums are in fine shape and well-maintained, others have fallen into disrepair. Several can be found with broken glass, littered with rubbish, and on occasion you might find a mausoleum being used as a janitorial supply closet, with cleaning and maintenance products stored on top of coffins. Each mausoleum bears the family name etched into the facade; brass or bronze plaques are added to the front for particular family members. La Recoleta is one of those cemeteries where the tradition of engraving a death date but no birth date has been maintained.
(top...)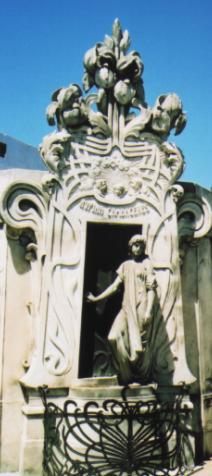 Every day, busloads of tourists visit the black granite tomb of Evita Peron at Recoleta Cemetery in Buenos Aires. They listen to a few words from their tour guide, snap pictures and move on, rarely stopping to appreciate the grandeur of one of the world's most significant graveyards. Sitting on a four-block area of the city's most expensive real estate, the 183-year-old cemetery is in grave need of restoration. Marble tombs are being eaten away by acid rain, and their stucco ornaments are also dissolving, exposing brick interiors. Some historically significant tombs are being destroyed by human hands, through neglect or modernization. This is one of the five most important cemeteries in the world as Recoleta represents an important historical moment for the city of Buenos Aires (one ot the ten largest cities in the world) and how it was forming at the time.
(top...)
While the cemetery dates from 1822, most of the elaborate tombs (like little mansions) were built between 1880 and 1910, when Buenos Aires grew rapidly in population and wealth. Many were built by the same sculptors who were working on the city's grand new houses at the time. Many look like Greek or Egyptian temples, including one that belongs to the wealthy Paz family. Almost two stories high, the black granite tomb is adorned with white marble angles and Masonic symbols such as anchors and Maltese crosses inside circles.
(top...)
Perhaps the most touching gravesite is the one for Rufina Cambaceres, a 19-year-old woman who was accidentally buried alive by her family after being pronounced dead in 1902. (Hearing noises coming from the tomb, graveyard workers opened it and found scratch marks that indicated she had been trying to claw her way out before expiring.) A white marble sculpture of the girl shows her holding the tomb's door and looking out at passers- by with a tearful expression.
(top...)
Not all of the 4,800 -plus tombs can be restored. Only 90 or so are national monuments that the government has the right to fix. While the city of Buenos Aires owns the cemetery grounds, the vast majority of the tombs, including Evita's, are privately controlled. Evita's tomb is the most-visited site in the cemetery and one of the best maintained. Visitors often leave wreaths of flowers or attach notes to the bronze door; others tape political messages to the smooth stone surface. How Evita ended up at Recoleta is a bizarre story. Following her death in 1952, President Juan Peron had his wife embalmed and preserved in life-like condition while he planned a monument for her. But after Juan Peron was overthrown in 1955, the military regime stole Evita's body and took it to Milan, where it was buried in a graveyard under a false name. Her body was finally returned to Argentina in 1974 and, two years later, was placed under a layer of steel and concrete in her family's crypt so it would never be stolen again.
(top...)
Evita aside, the main attractions of Recoleta are the architecture, the grandiose aura, the sense of rubbing shoulders with Argentine history. The cemetery, inaugurated in 1822 and redesigned in 1881, encompasses 13.5 acres. The departed include Argentine presidents and vice presidents, governors, generals, admirals, industrialists, publishers, judges, doctors, professors, writers, poets, scientists -- and their families. Some of them -- Alvear, Dorrego, Pueyrredon -- are familiar from the Buenos Aires streets and plazas that bear their names. Others, such as Jose Estrada, are known from the Literature of Argentina shelves in bookshops. Still others, such as Dufour, Barchiesi, O'Shea, Zoltowska or Breitman, reflect the many facets of Argentine society.
(top...)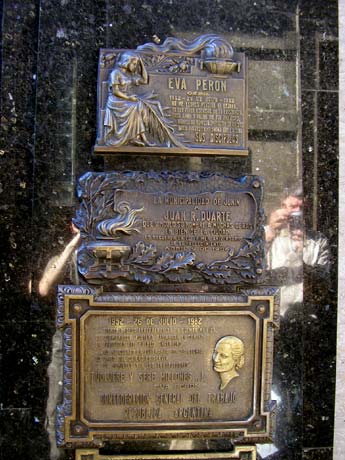 The labyrinthine necropolis is laid out like a town. There is no map and only one sign -- to Mausoleo Sarmiento, a soaring obelisk crowned with a condor. It commemorates the Argentine hero Domingo Faustino Sarmiento, President, writer and educator, who died Sept. 11, 1888. The predominant color is gray. The entrance is post-colonial in style with four columns, a peristyle and tall wrought-iron gates. Just inside is the main avenue, an address of choice lined with cypress trees, stone benches and some 50 showpiece mausoleums. A towering bronze statue of El Redentor, The Redeemer, is in the center. Along the avenue visitors admire the white marble beauty of Luz Maria Garcia Velloso in a softly draped dress, lying asleep among sculptured roses on a white marble sarcophagus. A bronze ship atop a green column celebrates Adm. Guillermo Brown (an Irish adventurer/corsair who did well in Argentina), who gave ''days of glory and triumph in the year 1814.'' His neighbor, Gen. Tomas Guido, a friend and colleague of the great Libertador General San Martin, is buried in a little stone grotto.
(top...)
To turn left at The Redeemer, or right for that matter, is to gradually absorb the life of the cemetery. The earliest graves -- one or two predating 1822 -- are simple, unadorned sepulchers, some with a cross. After 1822 there are changing architectural styles. Nineteenth-century neoclassical tombs favor angels and urns, Doric, Ionic and Corinthian columns. The fin-de-siecle and early 20th-century porteno taste for things European extended from the streets of the city to the plots of the cemetery. Materials and architects were imported from Europe to create increasingly sumptuous monuments. The 1920 Herlitzka tomb, for example, features Murano glass, gold leaf and an altar of Italian marble. There were crazes for Art Nouveau, Art Deco, the neo-Gothic. Personal tastes and predilections were also expressed. The 1903 Rufina Cambaceres tomb features giant sculptured Art Nouveau orchids and a soulful statue of the young woman. The Herrera-Noble mausoleum, a brown tinted-glass block, is a study in modern design. The tomb of Adolfo Casal has a stone coffin on top of its roof. The family pantheon of Dorrego-Ortiz Basualdo (1849-1920) is possibly the graveyard's most priceless structure, though it is contested by the huge Leloir's family --important landowners of Nobel prize fame. Rich in stained glass, Italian sculpture and symbolism, it features a virgin lighting a tall seven-branched candelabrum, symbol of spiritual light and salvation. A "Dolorosa" by the Milanese sculptor Antonio Tantardini, whose work is also in the Buenos Aires Museo Nacional de Bellas Artes, adorns the tomb of Juan Facundo Quiroga (1788-1835), the assassinated gaucho caudillo or war chief known as the Tiger of the Plains.
(top...)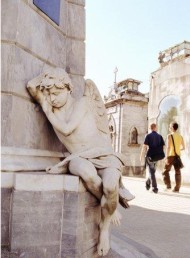 In every graveyard there is a story behind every grave. In Recoleta the stories are those of a nation, and there are some good ones. In 1828 Gen. Juan Lavalle ordered the execution of Gen. Manuel Dorrego, now his neighbor in death. In the biography of Juan Facundo Quiroga by Sarmiento, ''Facundo: Civilization and Barbarism,'' the author portrayed Quiroga as a barbarian. Now they, too, are posthumous neighbors. One most astonishing story is the attempted Aramburu-Evita cadaver exchange. When Eva Peron died, at age 33 in 1952, her body was embalmed and kept in the General Confederation of Labor headquarters. Gen. Pedro E. Aramburu, a political enemy of the Perons who was de facto President of the junta that ruled Argentina, ordered the kidnapping of her corpse, which was sent in secret to a cemetery in Italy. The Montoneros, a guerrilla group of Peronist loyalists, abducted and executed Aramburu, then kept his remains as ransom for the return of ''Companera'' Evita's. The police recovered Aramburu's body. But when Evita's body didn't show up, the Montoneros later robbed Aramburu's grave. Evita's mummy was eventually sent to Juan Peron in exile in Madrid and later returned to Buenos Aires, restored, and nearly 25 years after her death, in 1976, buried a few blocks from Aramburu. Juan Peron is buried in Cementerio de la Chacarita, a more populist cemetery in the city.
(top...)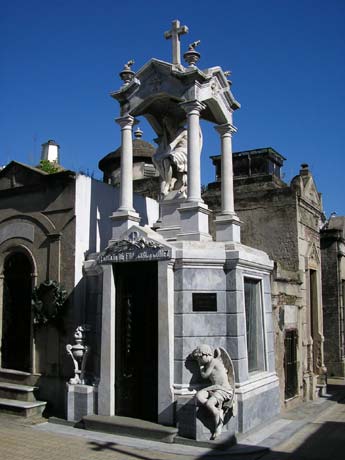 But Recoleta is not only a story of past power and glory. It is a place that is part of Buenos Aires everyday life. Cemetery custodians polish marble, cradle cats, chat on tomb steps and may open tomb doors for travelers who want to see an interior. (A tip is always welcome, but not mandatory.) Many tombs are lovingly personal, with interiors -- visible through windows or doors -- adorned with symbolic objects and mementoes: exquisite lace cloths over a coffin, a cross encrusted with gems. Behind one wrought-iron door there is a broken chair of carved wood and cane. Inside another there is a black and white photograph of a beautiful woman in a white feather boa. Family, friends, admirers, patriots, visit faithfully. There's usually someone around, and the cemetery is especially busy on weekends. Visitors replenish flowers in vases, polish silver handles on coffins, leave messages, sit and reflect.
(top...)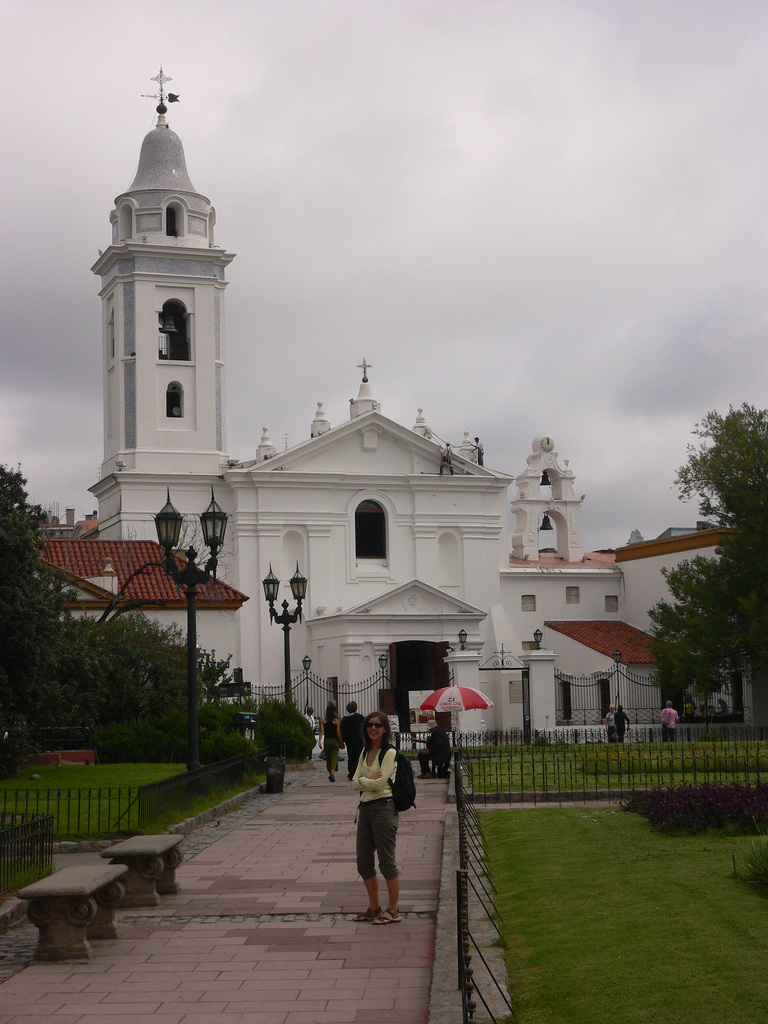 Buenos-Aires-Walking-Tours.com
Tel. +54 (911) 2578-1111 (if calling from overseas)
Tel. (15) 2578-1111 (if calling locally from within Buenos Aires)